Hydroponic System Design & Supply
Pure Hydroponics offers a comprehensive Commercial Hydroponic System Design and Supply Service.
We can custom design a system to fit any type of greenhouse or growroom and can cater for any crop type.
Pure Hydroponics can provide three levels of service:
Level 1) A Custom Designed Hydroponic System with Technical Drawings and an Itemised Shopping List.
(This allows the client to source bulky parts & pipework locally to reduce shipping costs and source specialised equipment from Pure Hydroponics if required – This option is ideal for clients in the Northern Hemisphere)
Level 2) A full Turn Key Hydroponic System manufactured and shipped by Pure Hydroponics to fit a client's own greenhouse.
Level 3) A Turn key Hydroponic System manufactured and shipped by Pure Hydroponics with a professional Commercial Greenhouse and Climate Control.
Our speciality is designing hydroponic systems for extreme climates to provide excellent year round crop performance.
An ideal greenhouse environment is just as important as a well designed hydroponic system.
Pure Hydroponics is happy to work with clients to help them select the best greenhouse and climate control equipment to suit their budget and requirements.
We realise that overseas clients may prefer to work with their local greenhouse suppliers due to logistical or support reasons. Pure Hydroponics can design hydroponic systems to fit inside any alternative brands of greenhouses that a grower may wish to use.
We believe that keeping costs down and providing a high quality solution for the client is of utmost importance.
Pure Hydroponics uses two types of hydroponic system which can be used to grow almost any crop type.
These growing systems are further modified to suit very hot, very humid or very cold climates.
1) NFT (Nutrient Film Technique)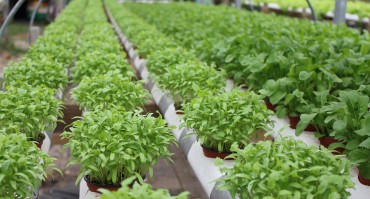 These are recirculating systems for growing crops such as lettuces and herbs.
The crops are grown on above ground benches covered with PVC gullies, usually of 100x50mm in size.
A thin film of nutrient solution is pumped down the gullies and the roots of the plants feed from the passing solution.
The solution is then gravity fed back to a pump room, automatically redosed with nutrient and re-oxygenated before being
recirculated back to the benches by a pressure pump.
NFT is a system which has been greatly refined and perfected since being introduced into NZ over 40 years ago.
2) Drip Fertigation Systems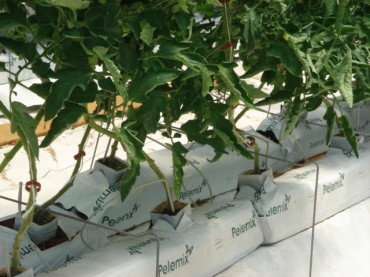 These are normally non recirculating systems for crops such as tomatoes, capsicums, cucumber, beans and flower crops.
The plants are grown in media filled bags, pots, slabs or media filled bunker beds and are precision fed with pressure compensated drippers.
Any excess nutrient that is unable to be absorbed by the media or plants is called "run off".
The run off flows into a common catchment area  and the valuable nutrients are collected for reuse on nearby pasture or soil crops, or it is filtered, sanitised and recycled in dilute form with fresh nutrient stock solutions and fed back to the crop.
Large greenhouse areas can be divided into "fertigation zones" which can be managed individually with their own nutrient strength and irrigation program.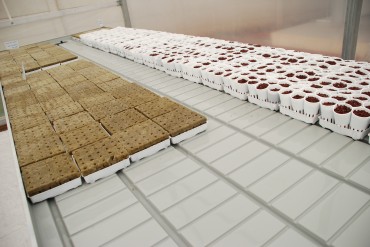 A Nursery Propagation System can be incorporated into each system design to propagate seedlings for the main growing system.
The propagation system (consisting of Ebb and Flow tables) can be designed to fit inside the main greenhouse(s) or the client may prefer to have a separate, smaller greenhouse to be used for the propagation area.
Pure Hydroponics can make hydroponic systems as High Tech or Low Tech as required to suit a grower's budget or labour availability.
To start the design process the client must firstly complete a Commercial System Design Questionnaire and send it back to us.
Commercial System Design Questionnaire
Once these questions have been answered Pure Hydroponics can issue a quotation for their design services and the design process can then commence.
We look forward to being of assistance.