pH Test Paper
pH Test Paper (Litmus Paper) is an easy, low cost method for testing the pH of a liquid solution.
The pH Test Paper is supplied as a 5 metre roll.
Simply tear off a small portion of the test paper and dip it into the solution you are testing.
The area of paper which was submersed will then change colour. Match the paper up with the colour chart supplied with the test paper to establish the pH reading.
The pH Test Paper we supply measures within the 5.0 – 8.0 pH range which is ideal for hydroponics.
Other pH ranges are available on request (see chart below).
Available in single rolls or packs of 5
(Growers requiring a more instant and accurate method of testing pH are advised to purchase a Bluelab pH Pen, Bluelab pH Meter or Bluelab Combo Meter as shown on this website).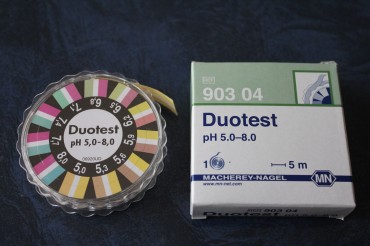 | | | |
| --- | --- | --- |
| DUOTEST range | pH gradation | REF |
| pH 1 – 12 | 1 · 2 · 3 · 4 · 5 · 6 · 7 · 8 · 9 · 10 · 11 · 12 | 90301 |
| pH 1.0 – 4.3 | 1.0 · 1.3 · 1.6 · 1.9 · 2.2 · 2.5 · 2.8 · 3.1 · 3.4 · 3.7 · 4.0 · 4.3 | 90302 |
| pH 3.5 – 6.8 | 3.5 · 3.8 · 4.1 · 4.4 · 4.7 · 5.0 · 5.3 · 5.6 · 5.9 · 6.2 · 6.5 · 6.8 | 90303 |
| pH 5.0 – 8.0 | 5,0 · 5,3 · 5,6 · 5,9 · 6,2 · 6,5 · 6,8 · 7,1 · 7,4 · 7,7 · 8,0 | 90304 |
| pH 7.0 – 10.0 | 7.0 · 7.3 · 7.6 · 7.9 · 8.2 · 8.5 · 8.8 · 9.1 · 9.4 · 9.7 · 10.0 | 90305 |
| pH 9.5 – 14.0 | 9.5 · 10.0 · 10.5 · 11.0 · 11.5 · 12.0 · 12.5 · 13.0 · 13.5 · 14.0 | 90306 |