Bluelab Guardian Monitor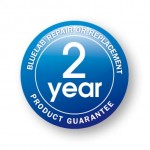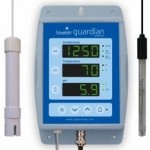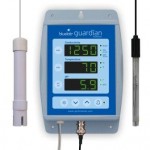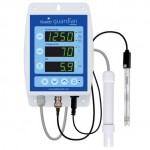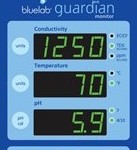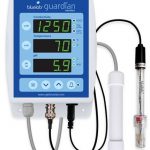 The Bluelab Guardian Monitor is an excellent unit for the continuous measurement of pH, Conductivity and Temperature.
The difference between the Guardian Monitor and a handheld meter is that the Guardian Monitor is installed in a fixed, mains powered position within a hydroponic pump room and its probes are continuously suspended in the hydroponic nutrient solution to provide readings 24 hours a day, 7 days a week, all on one easy to read LED screen.
At a glance a grower can tell straight away what the status of their nutrient solution is and they can be alerted to any problems via an audible alarm or a flashing screen.
The Guardian provides enormous "hands free" benefits for growers who manually dose their mixing tanks with nutrient stock solutions and pH corrector.
Manually dosing a tank can be messy work and also quite dangerous if a corrosive pH corrector is used.
By using the Bluelab Guardian a grower can maintain the full use of both hands to safely and accurately dose stock solutions to the mixing tank.
They can then stand by and see the changes appear instantaneously on the Guardian's LED screen to determine if more stock solution needs to be added.
The Bluelab Guardian provides the convenience of seeing everything displayed at one time from a distance, on one screen, day and night, without needing to touch the unit with wet or contaminated hands to take a reading.
It truly makes manual dosing a breeze.
Main Features
Adjustable display brightness
Large easy to read displays
'Plant Safe' green LED display
Selectable values for conductivity and temperature
Simple push button pH calibration
No calibration required for conductivity and temperature
Silent alarm for both high and low settings
Settings retained when power lost (non-volatile memory)
Automatic temperature compensation
International power supply
Water resistant design
Bluelab 2 Year guarantee (6 Months on pH Probe)
Retail Price NZ$573.04 + GST
Wholesale Pricing is Available for Retailers Worldwide
Bluelab Guardian Instruction Manual