Bluelab pH Probe KCL Storage Solution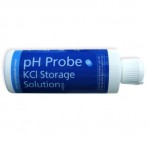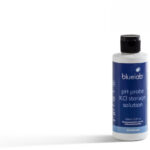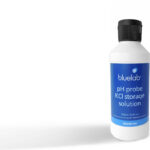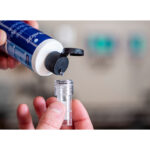 pH probes are sensitive glass instruments which age through normal use. The life and performance of pH probes is significantly reduced when the glass probe tips are allowed to dry out.
Bluelab pH Probe KCl Storage Solution is made specifically for use with Bluelab pH products. It is designed to increase response time and maximize the life of Bluelab pH pens and pH probes.
Bluelab pH Pens and pH Probes are supplied with a storage cap to cover the tip of the pH probe. This storage cap should be filled with a few drops of KCL solution to keep the glass probe tip moist at all times.
Probes that are stored in sample pots or are continuously immersed in tank solutions should be removed from that environment and fully immersed in KCL solution overnight on a monthly basis to maintain performance.
If a pH probe happens to dry out then the probe tip should be immersed in KCL solution for 24 hours and then recalibrated.
Price – 120ml bottle of KCL Storage Solution NZ$21.15 + GST
Price – 250ml bottle of KCL Storage Solution NZ$35.00 + GST
Wholesale Pricing is Available for Retailers