Bluelab pH Controller – With Connect! (Data Logging) (pH Control Only) Kit Price $1,315.60 + GST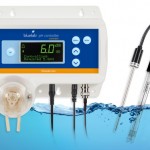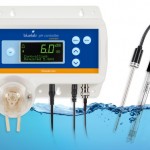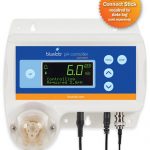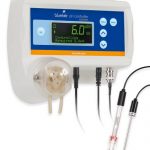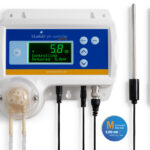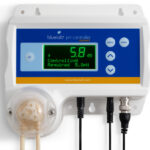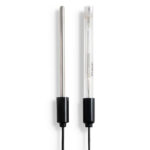 The Bluelab pH Controller allows for the automated monitoring and dosing of pH corrector into a hydroponic system.
The intelligent new Connect feature allows you to log data and change settings from your PC. It also allows you to log data to a cloud and monitor the data logs remotely.
pH control is very important in hydroponics. The correct pH is like having the keys to a series of locked cupboards. Each cupboard contains a nutrient element which is essential to healthy plant growth. When the pH is at the correct level e.g 5.8 pH, then all of the cupboards are able to be opened and all of the elements are freely available to the plants. When the pH is too high some of the cupboards remain locked and those elements are unavailable to the crop.
The pH of the root zone should be below 6.2 pH at all times. By dosing the tank at 5.6 – 5.8 pH you can ensure the pH of the root zone will always be below 6.2 pH.
With manual dosing it is very hard to maintain a constant pH.
Incoming fresh water from an automatic ball cock valve and the vigorous feeding of plants will always raise the pH. This can easily push the pH of the nutrient solution beyond 6.2 pH in a short time. With manual dosing there is always a risk of overdosing the tank as many busy growers do not have the time to add small doses of pH corrector manually and then wait the appropriate time for mixing before adding another dose.
The Bluelab pH Controller overcomes all of those problems and promotes a healthy, high yielding crop which allows the grower to quickly recover the investment cost of the controller.
It provides reliable dosing when required to maintain a constant pH level in a hydroponic system. It is on the job 24 hours a day, 7 days a week and an alarm function and safety lockout alerts the grower to any problems.
The built in peristaltic dosing pump on the controller is also very reliable and accurate.
Simply set your desired pH setpoint and program the "Dose On" and "Dose Off" times to suit the size of your mixing tank. The controller will then take over and tirelessly maintain the correct pH day and night.
Features
High flow rate of 120 ml/min delivers precise pH correction

View your reservoir pH on your device no matter where you are (requires Connect Stick and Connect software)

Controls pH in the up (alkali) or down (acid) direction

In-built safety lockouts help to prevent overdosing

Dosing settings ensure effective mixing before next dose

High and low alarms to alert you when pH is out of acceptable range

2-metre/6.6-ft probe and power cable lengths and 1.2-metre/3.4-ft total tubing for best positioning and viewing

Flexible mounting options for walls, posts

,

and racks

Large and easy to navigate menu to program and adjust settings

English, German, Spanish, French and Dutch screen display languages

Replaceable pH and temperature probes

Replaceable tubing, peristaltic pump

,

and cassette
Technical Specifications
Control parameter:
pH – user selectable single
direction (up or down)
Control range:

0.1 – 13.9 pH

Dose rate:
120 ml per minute
Resolution:
0.1 pH
Accuracy at 25 °C / 77 °F:
±0.1 pH
Calibration:
Two or three point
(pH 7.0 and pH 4.0, and/or pH 10.0)
Temperature compensation:
Yes
(if temperature probe is in the same solution as pH probe)
Operating environment:
0 – 50 °C, 32 – 122 °F
Power source:
Input: 100-240 Vac, 50-60 Hz, 5 VA,
4 interchangeable plug types (USA, Euro, UK, NZ/AUS)
Output: 24VDC 0.4Amp
Screen languages:
English, Deutsch, Spanish, French, Nederlands
Bluelab pH Controller with Connect – NZ$1,126.00 + GST
Connect Stick (Purchased Separately) NZ$189.60 + GST
Connect Range Extender (Purchased Separately) NZ$279.00 + GST
Wholesale Pricing is Available for Retailers
2 year guarantee for Bluelab pH Controller and Bluelab Temperature Probe
6 month guarantee for Bluelab pH Probe