Bluelab pH Probes
The Bluelab pH Probes can be purchased separately and are designed to fit Bluelab branded pH meters & controllers or other international brands of pH meters or controllers which have a bayonet fitting for attaching pH probes to.
The pH probe transmits information about the acidity of a mixing tank solution back to the instrument it is attached to. This information is then converted by the instrument to give a pH reading. A grower then uses this information to decide if they need to make the tank solution more acidic or alkaline to suit their crop type.
The tip of the Bluelab pH Probe is an easy to clean bullet shaped glass bulb, which is fully waterproof and is less fragile than all-glass electrodes because of its tough polypropylene barrel.
The pH probe is gel filled (non-refillable) making it maintenance free and has a double junction reference which provides for a longer lifetime.
All growers are encouraged to use the Bluelab pH 4 and 7 calibration solutions or a Bluelab Cleaning and Calibration kit to keep their probes clean and as accurate as possible.
Good maintenance of the probe also ensures a longer lifetime.
Main Features
Fully waterproof
2 Metre cable length
Quality BNC connection
Tough polypropylene barrel
Heavy duty thick wall glass stem
Non-refillable gel junction
6 Month Bluelab Guarantee
Retail Price – NZ$97.40 + GST
Wholesale Pricing is Available for Retailers 
Bluelab pH Probe Instruction Manual
Bluelab pH Probe – Probe Care Instructions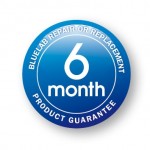 Note: These Gel filled non-refillable pH electrodes are general purpose probes for use in moderate to high ionic strength solutions that are free of oils, suspended solids and proteins.