High Flow Peristaltic Pumps
Pure Hydroponics has our own range of high flow peristaltic pumps.
These are ideal for growers who have tank sizes in excess of 5,000 litres or for those who have batched dosing systems and require a reliable method of dosing A, & B stock solutions and pH corrector at a higher flow rate.
Our sizes are as follows:
900ml per minute Single Pumps – For tank sizes of 1,000 – 15,000 litres
To double your dosing capacity simply use a double plug on the dosing relays and add a second peristaltic pump for A, B and pH.
These pumps need to be powered by a 240 Volt power supply so if your dosing controller only sends an output of 24V AC then a pump start relay needs to be linked to the controller to supply the dosing pumps with 240V power.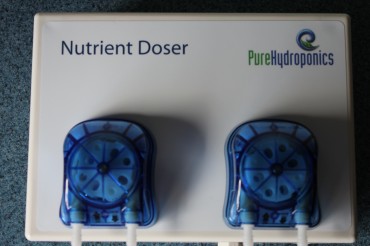 .